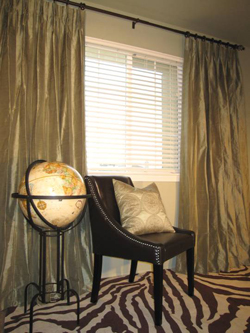 In addition to our custom window treatments, Patterson Decorating Group is pleased to offer luxurious drapery panels at a price that is much less than you would expect to pay.
Our Draperies are made from the finest materials along with superior construction. The result is a truly high-end, designer quality drape that will measure up to the highest standards.
Our workroom custom makes our drapery to order in the USA. Not overseas, as you may find elsewhere.
Made To Order Silk Dupioni Drapery Starting at $155
You can choose everything from color and pleat style to banding and length.
There is nothing more luxurious than silk so we use the finest quality Dupioni silk to make our draperies. Our silk fabric is available in a huge variety of colors so you will be sure to find the perfect color for your home.
Our drapery is lined with superior suedeline lining in your choice of white or ivory. Our rich lining provides light protection, insulation and contributes to the custom made look.
If you are looking for the ultimate couture style, exceptional body and added insulation - interlining is the answer. Interlining can significantly reduce energy costs. Our interlining is also available in white or ivory.
We offer five different pleat styles for you to choose from. Pleats are just one of the obvious differences between custom made drapery and those you will find in stores or catalogs. Don't confuse our Drapery with ready made curtains!
Our draperies include the following details to be sure of excellent quality and value:
One width wide Panels or Pairs with One and one half width panels

Lengths up to 144 inches

2 - 2 ½ x fullness (depending on pleat style) for superb hanging quality

4 to 5 pleats per width

Lined with white or ivory for light protection and insulation

Interlined with white or natural for the ultimate body and European styling

4" double turned heading with crinoline for shape and stability

4" double turned bottom hem, blind stitched for added body

1 ½" double turned side hems, blind stitched for smooth edges

Clear or smoke monofilament thread

Drapery pins to attach to rings

Laminated 1 oz. weights in hem corners to keep draperies in place
Additional Options
| | | |
| --- | --- | --- |
| Vertical Banding | Horizontal Banding | Standard Tieback |
| | | |

If you would like more information or color samples for our Made To Order Silk
Drapery Panels, please contact us.