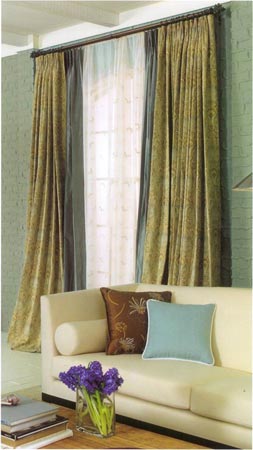 You may spend thousands of dollars on a new sofa and have it go unnoticed, but when you install custom window treatments your friends will say "wow!"
In addition to the beauty that window treatments add, fabric adds softness, frames a view, and makes a room feel insulated.
Why choose custom draperies?
When you leave your windows undressed, the room feels bare and vacant.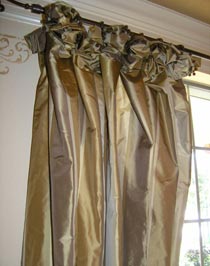 At first glance, custom drapery may seem expensive, but consider it an investment. The average life span of a custom window treatment is about 12- 15 years. When you calculate the annual amount, you will see that it is an excellent value.
Some high end stores offer ready made drapes that may appear less expensive. But, ready made drapes are not the same quality as custom drapery. They never fit your windows perfectly and they can actually cost more, especially if you make mistakes and have to pay to correct them.
Window Treatments are such an important component in a well designed space. They soften a room and frame a beautiful view. There are so many styles available that the choices can be overwhelming.
We offer Window Treatment Designs to help our clients choose the perfect drapery.
We will illustrate how different designs will look in your home. Every space is different and we love the challenge. Your window treatment consultation begins with a visit to your home. We brings lots of photo's and fabric samples to help determine your favorite styles and fabric preferences.
After we learn what your preferences are, we draw your window wall to scale. You are provided three different drapery options based on your favorite styles.